Evernote faster and customizable on iPhone and iPad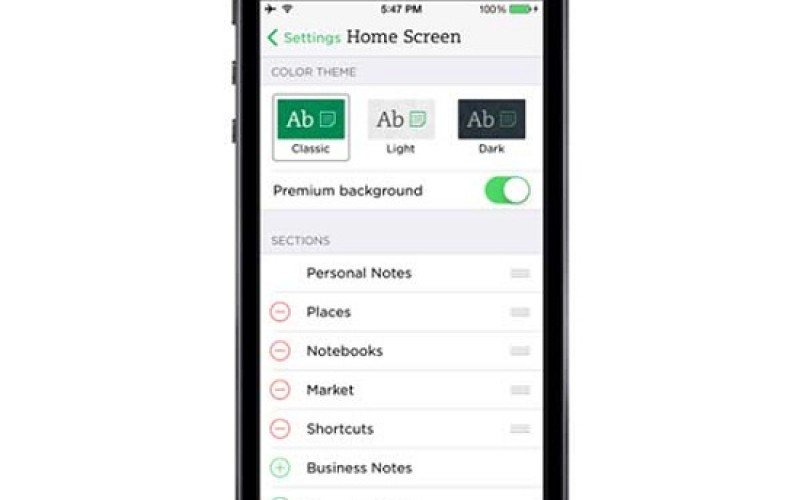 Evernote faster and customizable on iPhone and iPad
The application notes better known in the field of smartphones is not willing to be forgotten. So, has introduced a new version for devices of Apple with surprising new possibilities. And is that not only bet for visual redesign that fits the needs and preferences of the user, but has improved and streamlined its operations to be more reliable and convenient tool. All this by adding a few more issues can be very useful for the more experienced and regular user.
This is the 7.3.0 version of Evernote for iOS . An update with notable changes that surprised, at first, by its renewed visual aspect . Of course, all this ongoing commitment to personalization. Thus, the main application screen now displays a new row of buttons to create different types of notes (pictures, audio, etc..). These buttons are single, large and accessible from the top of the screen. Just above them are also placed the settings menu with the icon of a gear for quick access to customization options. One of the key points of this update.
Thus, the user now has the power to present in this main screen content he or she wishes, without limitation which provides application. Just enter the menu and select discussed categories and folders you want to display on the main screen where the notes are stored. It is also possible to rearrange the list of these categories and display them in the order that is clear and convenient to the user. Just mark them and reset them with a finger.
Another visual striking point of this update are the new themes . Thus, the user has three environments with different colors to give a more consistent implementation aspect. You can choose from light (white and green theme), dark (dark green) and green classic that respects the classic colors of Evernote . A question that may seem trivial but it is welcome, especially for those users who want to have everything to your liking.
Apart from these issues, and more visual customization, this new version of Evernote has other interesting news related functionality. One is the backup file , which has information on the main screen to know when was the last time the notes were stored. A process that, with the new technology introduced in the company's servers say it is four times faster . Were also improved other aspects such as cursor position to write upon entering a note, the suggestions of the titles of these , and other issues that reduce the number of taps on the screen and make taking a note is a process much more agile. Besides, it has improved the scanning business cards and introduced the possibility of establishing the quality of the audio tracks recorded.
Finally Fixed several bugs from previous versions and the problem kept audio files as corrupt, or you could not see properly scanned cards. Questions can now be enjoyed on the new version of Evernote for iOS and is available in App Store so free .
The following two tabs change content below.
Hey, thanks for reading my reflection. This is Deep...Founder of Techfameplus.com. I am a Web Designer & Developer... My Personal Interest areas are Playing games,Internet.... My Skills are Photoshop, HTML, CSS, HTML5, CSS3, Website Design, Template Creation...Connect back him regarding on
Facebook
, Add him on
Google+
and Follow him on
Twitter.
Latest posts by Deepak Sudera (see all)